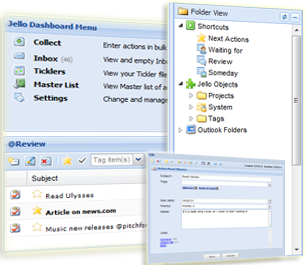 Turn MS Outlook® into a complete GTD system

Jello Dashboard is a Getting Things Done (GTD) solution for Microsoft Outlook. Set it up into your Outlook as a folder homepage and work with your existing Microsoft® Outlook® data using the popular Getting Things Done methodology.
Complete GTD workflow

Collect, Review and Do things, following David Allen's GTD method while managing your unfiled actions and email from a single inbox.
Manage existing tasks

You don't need to create new Actions. You can use your existing Microsoft Outlook tasks as actions. By assigning them to context and project tags you can start building your GTD system right away!
Jello Dashboard Release 5.26
This is a minor change release, don't get fooled by the version number. There are 3 main additions in this version: 1. Main icon top menu replaced


Posted on November 17, 2012

Jello Dashboard 5.25 (astral)
A new version of Jello Dashboard was released today, under the codename 5.25 Astral. There were some new features added, since the bugs reported by


Posted on June 15, 2011
USER LOVE
~ Keep up the good job!

"So, after using Jello Dashboard for a few months, I have ventured out to see what else it out there in the same category of products. After trying FranklinCovey PlanPlus, David Allen GTD for Outlook and Effexis Achieve Planner (all commercial, some upward of $100 per license), I must say that Jello is the most intuitive and the least cluttered"

~ Superb job!

"I have been on my GTD journey for about 2 years now and I've being trying so many different approaches, some with Outlook add-ins, hand-carved customisation in Outlook, standalone programs, iPad and Mac apps. Nothing ever quite fitted my method of working (supporting IT for many different customers with lots of projects). For a couple of days now I have been transforming my system over to the Jello approach and liking almost all I've found so far. It just fits the way I want to work. You have covered so many features and ideas that have been missing from other"