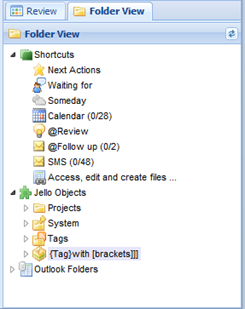 I'm glad to announce that the new 5.23 version (Ulysses) was released today.
Thanks to the feedback I got from the forum, I was able to track and fix many bugs, and some pretty serious ones.
I was even able to add many of your feature requests!
The main changes in version 5.23:
– New, cleaner icon set from famfamfam
– Spanish translation by Alberto Perez!
– From now on Jello Dashboard will alert users of new versions! Will check every 10 days
– Ability to add custom icons to tags, folders and projects
– Masterlist items display their tag list next to them in green color.
– Support for recurring tasks. When completed, next instance is created
– Sorttype error when navigating to an Outlook folder from the folder view
– Masterlist expand/collapse all groups toolbar button
– 3 Characters [  ] and + are no longer invalid
– Displaying flag icons for flagged messages in inbox view
See version history page for the full change log.
Thanks again to those of you who contributed in anyway, helping me again to move the project forward.
Now proceed to the downloads page and… enjoy the new Jello!
5 Comments to "Jello Dashboard 5.23 beta released"
Search the site
Random Testimonial
~ Superb job!

"I have been on my GTD journey for about 2 years now and I've being trying so many different approaches, some with Outlook add-ins, hand-carved customisation in Outlook, standalone programs, iPad and Mac apps. Nothing ever quite fitted my method of working (supporting IT for many different customers with lots of projects). For a couple of days now I have been transforming my system over to the Jello approach and liking almost all I've found so far. It just fits the way I want to work. You have covered so many features and ideas that have been missing from other"
Facebook