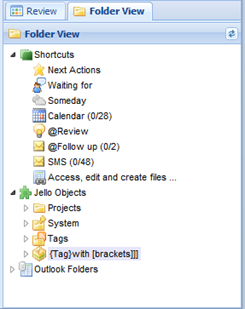 I'm glad to announce that the new 5.23 version (Ulysses) was released today.
Thanks to the feedback I got from the forum, I was able to track and fix many bugs, and some pretty serious ones.
I was even able to add many of your feature requests!
The main changes in version 5.23:
- New, cleaner icon set from famfamfam
- Spanish translation by Alberto Perez!
- From now on Jello Dashboard will alert users of new versions! Will check every 10 days
- Ability to add custom icons to tags, folders and projects
- Masterlist items display their tag list next to them in green color.
- Support for recurring tasks. When completed, next instance is created
- Sorttype error when navigating to an Outlook folder from the folder view
- Masterlist expand/collapse all groups toolbar button
- 3 Characters [  ] and + are no longer invalid
- Displaying flag icons for flagged messages in inbox view
See version history page for the full change log.
Thanks again to those of you who contributed in anyway, helping me again to move the project forward.
Now proceed to the downloads page and… enjoy the new Jello!
5 Comments to "Jello Dashboard 5.23 beta released"
Search the site
Random Testimonial
~ Ian

"

You're my hero, Nicolas! I've read the GTD book and love the concept but never felt the need to use it until now. I'm getting swamped and forgetting a lot of tasks. I also use MS Outlook 2007 extensively so that's why I would like to thank you in advance for a great product! (I know it's a great product"
Facebook